Autobiography of a Yogi (Self-Realization Fellowship)
Regular price
Sale price
$ 8.50 USD
Unit price
per
Sale
Sold out
Shipping and Returns
Share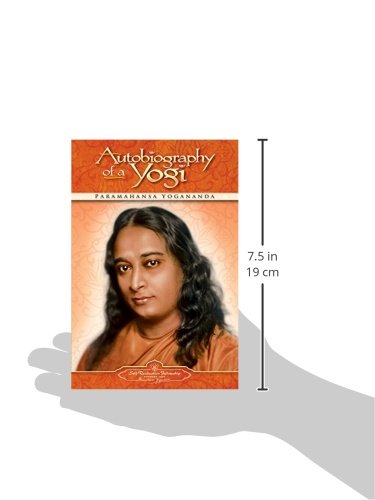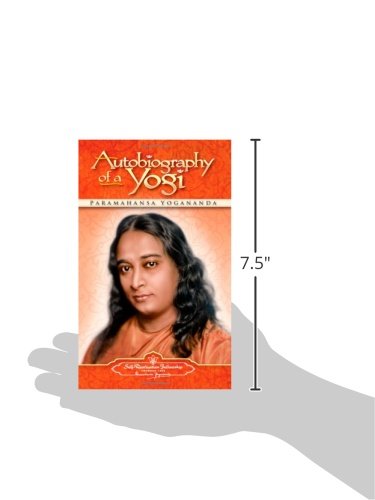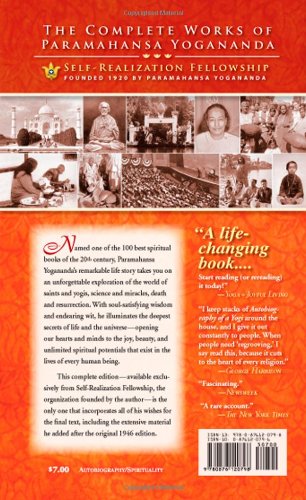 Shipping & Returns
Shipping Policy
Order Processing Times: Shipping time frames for certain products may vary and are detailed below.
Print on Demand: Some products are created by "Print on Demand". This means that once you place your order the products are then produced and shipped.
Currently, Print on Demand applies to products in the following categories:
Apparel: Order processing time: 5-7 business days
Jewelry: Order processing time: 14-21 days
GIN branded home products: Order processing time: 5-10 business days
Office and Stationary: Order processing time: 5-10 business days
Other General Orders: Most other orders placed on the GIN Store have an order processing time of 2-4 business days. Other factors may extend this timeframe like seasonal, weather, unforeseen challenges etc. We will make every reasonable attempt to contact you about any extended shipping timeframes with your order.
Multiple Shipments:
Please be advised that some products are fulfilled by multiple locations and venders. Therefore, you may receive your order in multiple shipments should your order contain multiple items.
Shipping Methods:
Multiple shipping methods are available. The GIN Store, at its sole discretion, reserves the right to use an alternate shipment method of equal or greater level of service. Reasonable effort is made to inform customers of circumstances which require special shipping arrangements.
Delivery:
IMPORTANT DISCLAIMER for Orders shipping OUTSIDE of the Unites States of America:  Duties and Taxes: Import duties, taxes, and brokerage fees are not included in the product price or shipping and handling cost. These charges are the buyer's responsibility as we are only charging the transportation fee for your order. Should an order be returned due to duties and taxes not being paid by the customer then shipping fees as well as restock fees will be deducted from any applicable order refund.
Affiliate Orders: In order to provide GIN members with expanded product options we have partnered with outside vendors as affiliates. Orders placed through an affiliate website are subject to that websites shipping and return policies. We encourage you to review any affiliate websites policies prior to purchasing.
Lost in Transit: If your order hasn't arrived and your tracking information indicates the package was delivered then please contact us ASAP. In some cases the package is lost in transit by the shipment carrier. Sometimes, there are packages that turn up after being rerouted, are delayed due to weather, or are delivered to a neighbor's house etc. If any of these situations occur we will work to remedy the lost shipment with you.
Shipment Destination: We encourage you send your order to a residential address to help ensure against misplacement or mishandling of your order by a third party. The GIN Store cannot entertain claims of lost packages that were sent to a non-residential address, which indicate delivery via the tracking number.
Undeliverable or Returned Packages: If your shipment is undeliverable due to incorrect address, restricted address, unsupported address (P.O. box indicated for UPS shipment or item too large for P.O. box, etc.), too many failed delivery attempts, or being refused by recipient, we will contact you for alternate shipping arrangements. Additional shipping incurred for these reasons is at the customer's expense. Should an order be returned due to duties and taxes not being paid by the customer then shipping fees as well as restock fees will be deducted from any applicable order refund.
Return/Refund Policy
Incorrect, Damaged, Lost, or Defective Items:
Incorrect Items: If you received incorrect merchandise such as items that do not match with your order you are entitled to a refund or exchange for the correct merchandise.
Damaged Items: If you received a damaged or defective product you are entitled to a refund or exchange for that same product to replace your damaged merchandise.
If there is a discrepancy with your order or you received it in a damaged condition, it must be reported within 10 business days of receipt to be eligible for recourse.
Lost in transit: Orders that are lost in transit typically may be eligible for refund, but these orders are also subject to The GIN Store shipping policy.
Products created on-demand:
Many items on the GIN Store are created by "Print on Demand". This means that once you place your order the products are then produced and shipped. These items are not eligible for refund except in the cases of an incorrect product, damaged product, lost in transit, or defective product.
Currently, this applies to products in the following categories:
Apparel
Jewelry
GIN branded home products
Office and Stationery
Other terms:
To ensure the safety and integrity of our products, The GIN Store does not accept returns of dietary Supplements, cleanses, homeopathic products, or anything else intended for human or animal consumption. All sales of products in these categories are final.
Each bank and financial organization is different and depending on your back you may need to ] allow up to 10 business days for your refund to be processed.
Return Authorization: Any refund or exchange must be preauthorized by GIN Store customer service. To request a preauthorization, contact us at: support@theginstore.com.
GIN Store Experience:
We want to do everything that we can to ensure that you are happy with your purchase so you can always Contact Us and we will work ensure that you "FEEL GOOD NOW" and receive the best possible care and shopping experience.  
Last Modified 05/31/2022
Author: Paramahansa Yogananda
Brand: Self-Realization Fellowship Publishers
Color: Other
Edition: Reprint
Features:
Self-Realization Fellowship Publishers
Binding: Mass Market Paperback
Number Of Pages: 596
Release Date: 05-01-1998
Part Number: 9780876120798
Details: Product Description Autobiography of a Yogi is at once a beautifully written account of an exceptional life and a profound introduction to the ancient science of Yoga and its time-honored tradition of meditation. Profoundly inspiring, it is at the same time vastly entertaining, warmly humorous and filled with extraordinary personages. Self-Realization Fellowship's editions, and none others, include extensive material added by the author after the first edition was published, including a final chapter on the closing years of his life. Selected as "One of the 100 Best Spiritual Books of the Twentieth Century", Autobiography of a Yogi has been translated into more than 50 languages, and is regarded worldwide as a classic of religious literature. Several million copies have been sold, and it continues to appear on best-seller lists after more than sixty consecutive years in print. With engaging candor, eloquence, and wit, Paramahansa Yogananda tells the inspiring chronicle of his life: the experiences of his remarkable childhood, encounters with many saints and sages during his youthful search throughout India for an illumined teacher, ten years of training in the hermitage of a revered yoga master, and the thirty years that he lived and taught in America. Also recorded here are his meetings with Mahatma Gandhi, Rabindranath Tagore, Luther Burbank, the Catholic stigmatist Therese Neumann, and other celebrated spiritual personalities of East and West. The author clearly explains the subtle but definite laws behind both the ordinary events of everyday life and the extraordinary events commonly termed miracles. His absorbing life story becomes the background for a penetrating and unforgettable look at the ultimate mysteries of human existence. Review One book in particular stayed with Steve Jobs his entire life, Autobiography of a Yogi...'the guide to meditation and spirituality that he had first read as a teenager, then re-read in India and had read once a year ever since.' --Huffington Post, review of Walter Isaacson's biography of Steve Jobs Fabulous stories from his life keep the reader inspired, informed, and thoroughly entertained from beginning to end. --Yoga Journal This book is a must-read for the budding yogi, the spiritual veteran looking for a deeper understanding, and everyone in between... --Yogi Times About the Author 1893 1952 Hailed as the father of Yoga in the West, Paramahansa Yogananda is regarded as one of the great spiritual figures of our time. Born in northern India, he came to the United States in 1920, where for more than 30 years he taught the ancient science of meditation and the art of balanced spiritual living. That same year he founded Self-Realization Fellowship, to disseminate his writings and teachings worldwide. Through his best-selling classic, Autobiography of a Yogi, and his numerous other books, he has introduced millions throughout the world to the spiritual principles of yoga meditation and the universal truths underlying all world religions.
EAN: 9780876120798
Package Dimensions: 7.5 x 4.6 x 1.4 inches
Languages: English
Disclaimer: While we work to ensure that product information is correct, on occasion manufacturers may alter their products descriptions and/or ingredient list. Actual product packaging and materials may contain more and/or different information than is shown on our website. We recommend that you do not solely rely on the information presented and that you always read labels, warnings, and directions before consuming any product. Any health information provided in this product description is for informational purposes only. We do not provide medical advice, diagnosis, or treatment. This information is not meant to replace or substitute professional medical advice. No statements in this description were evaluated by the Food and Drug Administration. The product described herein is not intended to diagnose, treat, cure, or prevent any disease.
Choosing a selection results in a full page refresh.