Shantaram: A Novel
Regular price
$ 17.99 USD
Regular price
$ 19.99 USD
Sale price
$ 17.99 USD
Unit price
per
Sale
Sold out
Shipping and Returns
Share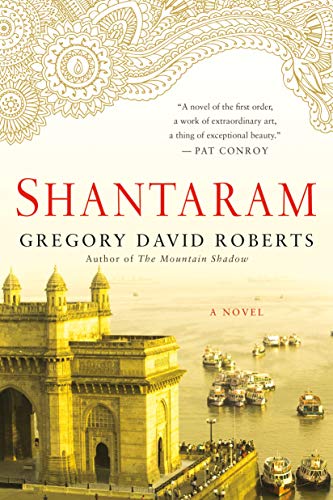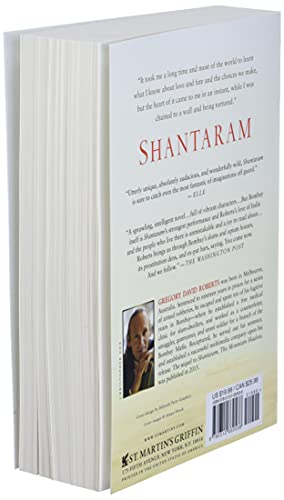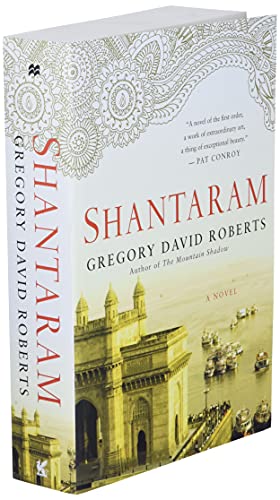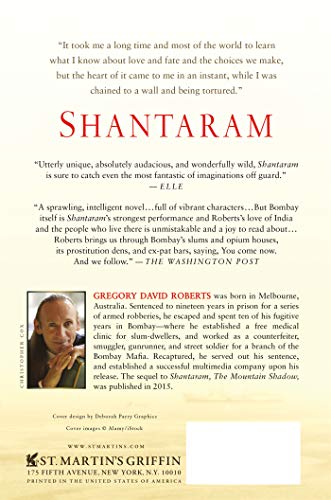 Shipping & Returns
Shipping Policy
Order Processing Times: Shipping time frames for certain products may vary and are detailed below.
Print on Demand: Some products are created by "Print on Demand". This means that once you place your order the products are then produced and shipped.
Currently, Print on Demand applies to products in the following categories:
Apparel: Order processing time: 5-7 business days
Jewelry: Order processing time: 14-21 days
GIN branded home products: Order processing time: 5-10 business days
Office and Stationary: Order processing time: 5-10 business days
Other General Orders: Most other orders placed on the GIN Store have an order processing time of 2-4 business days. Other factors may extend this timeframe like seasonal, weather, unforeseen challenges etc. We will make every reasonable attempt to contact you about any extended shipping timeframes with your order.
Multiple Shipments:
Please be advised that some products are fulfilled by multiple locations and venders. Therefore, you may receive your order in multiple shipments should your order contain multiple items.
Shipping Methods:
Multiple shipping methods are available. The GIN Store, at its sole discretion, reserves the right to use an alternate shipment method of equal or greater level of service. Reasonable effort is made to inform customers of circumstances which require special shipping arrangements.
Delivery:
IMPORTANT DISCLAIMER for Orders shipping OUTSIDE of the Unites States of America:  Duties and Taxes: Import duties, taxes, and brokerage fees are not included in the product price or shipping and handling cost. These charges are the buyer's responsibility as we are only charging the transportation fee for your order. Should an order be returned due to duties and taxes not being paid by the customer then shipping fees as well as restock fees will be deducted from any applicable order refund.
Affiliate Orders: In order to provide GIN members with expanded product options we have partnered with outside vendors as affiliates. Orders placed through an affiliate website are subject to that websites shipping and return policies. We encourage you to review any affiliate websites policies prior to purchasing.
Lost in Transit: If your order hasn't arrived and your tracking information indicates the package was delivered then please contact us ASAP. In some cases the package is lost in transit by the shipment carrier. Sometimes, there are packages that turn up after being rerouted, are delayed due to weather, or are delivered to a neighbor's house etc. If any of these situations occur we will work to remedy the lost shipment with you.
Shipment Destination: We encourage you send your order to a residential address to help ensure against misplacement or mishandling of your order by a third party. The GIN Store cannot entertain claims of lost packages that were sent to a non-residential address, which indicate delivery via the tracking number.
Undeliverable or Returned Packages: If your shipment is undeliverable due to incorrect address, restricted address, unsupported address (P.O. box indicated for UPS shipment or item too large for P.O. box, etc.), too many failed delivery attempts, or being refused by recipient, we will contact you for alternate shipping arrangements. Additional shipping incurred for these reasons is at the customer's expense. Should an order be returned due to duties and taxes not being paid by the customer then shipping fees as well as restock fees will be deducted from any applicable order refund.
Return/Refund Policy
Incorrect, Damaged, Lost, or Defective Items:
Incorrect Items: If you received incorrect merchandise such as items that do not match with your order you are entitled to a refund or exchange for the correct merchandise.
Damaged Items: If you received a damaged or defective product you are entitled to a refund or exchange for that same product to replace your damaged merchandise.
If there is a discrepancy with your order or you received it in a damaged condition, it must be reported within 10 business days of receipt to be eligible for recourse.
Lost in transit: Orders that are lost in transit typically may be eligible for refund, but these orders are also subject to The GIN Store shipping policy.
Products created on-demand:
Many items on the GIN Store are created by "Print on Demand". This means that once you place your order the products are then produced and shipped. These items are not eligible for refund except in the cases of an incorrect product, damaged product, lost in transit, or defective product.
Currently, this applies to products in the following categories:
Apparel
Jewelry
GIN branded home products
Office and Stationery
Other terms:
To ensure the safety and integrity of our products, The GIN Store does not accept returns of dietary Supplements, cleanses, homeopathic products, or anything else intended for human or animal consumption. All sales of products in these categories are final.
Each bank and financial organization is different and depending on your back you may need to ] allow up to 10 business days for your refund to be processed.
Return Authorization: Any refund or exchange must be preauthorized by GIN Store customer service. To request a preauthorization, contact us at: support@theginstore.com.
GIN Store Experience:
We want to do everything that we can to ensure that you are happy with your purchase so you can always Contact Us and we will work ensure that you "FEEL GOOD NOW" and receive the best possible care and shopping experience.  
Last Modified 05/31/2022
Author: Roberts, Gregory David
Brand: St. Martin's Griffin
Edition: First
Features:
Binding: Paperback
Number Of Pages: 944
Release Date: 29-09-2005
Part Number: 9780312330538
Details: Product Description "It took me a long time and most of the world to learn what I know about love and fate and the choices we make, but the heart of it came to me in an instant, while I was chained to a wall and being tortured." So begins this epic, mesmerizing first novel set in the underworld of contemporary Bombay. Shantaram is narrated by Lin, an escaped convict with a false passport who flees maximum security prison in Australia for the teeming streets of a city where he can disappear. Accompanied by his guide and faithful friend, Prabaker, the two enter Bombay's hidden society of beggars and gangsters, prostitutes and holy men, soldiers and actors, and Indians and exiles from other countries, who seek in this remarkable place what they cannot find elsewhere. As a hunted man without a home, family, or identity, Lin searches for love and meaning while running a clinic in one of the city's poorest slums, and serving his apprenticeship in the dark arts of the Bombay mafia. The search leads him to war, prison torture, murder, and a series of enigmatic and bloody betrayals. The keys to unlock the mysteries and intrigues that bind Lin are held by two people. The first is Khader Khan: mafia godfather, criminal-philosopher-saint, and mentor to Lin in the underworld of the Golden City. The second is Karla: elusive, dangerous, and beautiful, whose passions are driven by secrets that torment her and yet give her a terrible power. Burning slums and five-star hotels, romantic love and prison agonies, criminal wars and Bollywood films, spiritual gurus and mujaheddin guerrillas---this huge novel has the world of human experience in its reach, and a passionate love for India at its heart. Based on the life of the author, it is by any measure the debut of an extraordinary voice in literature. Review "Shantaram is a novel of the first order, a work of extraordinary art, a thing of exceptional beauty. If someone asked me what the book was about, I would have to say everything, every thing in the world. Gregory David Roberts does for Bombay what Lawrence Durrell did for Alexandria, what Melville did for the South Seas, and what Thoreau did for Walden Pond: He makes it an eternal player in the literature of the world." ―Pat Conroy"Shantaram has provided me with the richest reading experience to date and I don't expect anybody to unseat its all-round performance for a long time. It is seductive, powerful, complex, and blessed with a perfect voice. Like a voodoo ghost snatcher, Gregory David Roberts has captured the spirits of the likes of Henri Charrière, Rohinton Mistry, Tom Wolfe, and Mario Vargas Llosa, fused them with his own unique magic, and built the most gripping monument in print. The land of the god Ganesh has unchained the elephant, and with the monster running amok, I tremble for the brave soul dreaming of writing a novel about India. Gregory David Roberts is a suitable giant, a dazzling guru, and a genius in full." ―Moses Isegawa, author of Abyssinian Chronicles and Snakepit"Shantaram is, quite simply, the 1001 Arabian Nights of the new century. Anyone who loves to read has been looking for this book all their reading life. Anyone who walks away from Shantaram untouched is either heartless or dead or both. I haven't had such a wonderful time in years." ―Jonathan Carroll, author of White Apples"Shantaram is dazzling. More importantly, it offers a lesson...that those we incarcerate are human beings. They deserve to be treated with dignity. Some of them, after all, may be exceptional. Some may even possess genius." ―Ayelet Waldman, author of Crossing the Park"Utterly unique, absolutely audacious, and wonderfully wild, Shantaram is sure to catch even the most fantastic of imaginations off guard." ―Elle"Shantaram had me hooked from the first sentence. [It] is thrilling, touching, frightening...a glorious wallow of a novel." ―Detroit Free Press"[A] sprawling, intelligent novel…full of vibrant characters…the exub
EAN: 8601401279068
Package Dimensions: 8.2 x 5.5 x 1.7 inches
Languages: English
Disclaimer: While we work to ensure that product information is correct, on occasion manufacturers may alter their products descriptions and/or ingredient list. Actual product packaging and materials may contain more and/or different information than is shown on our website. We recommend that you do not solely rely on the information presented and that you always read labels, warnings, and directions before consuming any product. Any health information provided in this product description is for informational purposes only. We do not provide medical advice, diagnosis, or treatment. This information is not meant to replace or substitute professional medical advice. No statements in this description were evaluated by the Food and Drug Administration. The product described herein is not intended to diagnose, treat, cure, or prevent any disease.
Choosing a selection results in a full page refresh.