The Best Advice I Ever Got: Lessons from Extraordinary Lives
Regular price
$ 14.99 USD
Regular price
$ 17.00 USD
Sale price
$ 14.99 USD
Unit price
per
Sale
Sold out
Shipping and Returns
Share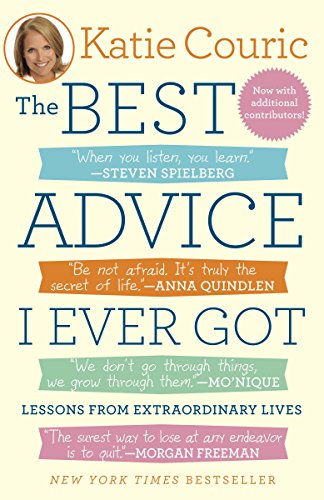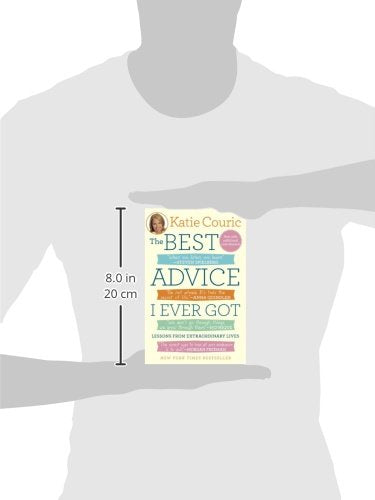 Shipping & Returns
Shipping Policy
Order Processing Times: Shipping time frames for certain products may vary and are detailed below.
Print on Demand: Some products are created by "Print on Demand". This means that once you place your order the products are then produced and shipped.
Currently, Print on Demand applies to products in the following categories:
Apparel: Order processing time: 5-7 business days
Jewelry: Order processing time: 14-21 days
GIN branded home products: Order processing time: 5-10 business days
Office and Stationary: Order processing time: 5-10 business days
Other General Orders: Most other orders placed on the GIN Store have an order processing time of 2-4 business days. Other factors may extend this timeframe like seasonal, weather, unforeseen challenges etc. We will make every reasonable attempt to contact you about any extended shipping timeframes with your order.
Multiple Shipments:
Please be advised that some products are fulfilled by multiple locations and venders. Therefore, you may receive your order in multiple shipments should your order contain multiple items.
Shipping Methods:
Multiple shipping methods are available. The GIN Store, at its sole discretion, reserves the right to use an alternate shipment method of equal or greater level of service. Reasonable effort is made to inform customers of circumstances which require special shipping arrangements.
Delivery:
IMPORTANT DISCLAIMER for Orders shipping OUTSIDE of the Unites States of America:  Duties and Taxes: Import duties, taxes, and brokerage fees are not included in the product price or shipping and handling cost. These charges are the buyer's responsibility as we are only charging the transportation fee for your order. Should an order be returned due to duties and taxes not being paid by the customer then shipping fees as well as restock fees will be deducted from any applicable order refund.
Affiliate Orders: In order to provide GIN members with expanded product options we have partnered with outside vendors as affiliates. Orders placed through an affiliate website are subject to that websites shipping and return policies. We encourage you to review any affiliate websites policies prior to purchasing.
Lost in Transit: If your order hasn't arrived and your tracking information indicates the package was delivered then please contact us ASAP. In some cases the package is lost in transit by the shipment carrier. Sometimes, there are packages that turn up after being rerouted, are delayed due to weather, or are delivered to a neighbor's house etc. If any of these situations occur we will work to remedy the lost shipment with you.
Shipment Destination: We encourage you send your order to a residential address to help ensure against misplacement or mishandling of your order by a third party. The GIN Store cannot entertain claims of lost packages that were sent to a non-residential address, which indicate delivery via the tracking number.
Undeliverable or Returned Packages: If your shipment is undeliverable due to incorrect address, restricted address, unsupported address (P.O. box indicated for UPS shipment or item too large for P.O. box, etc.), too many failed delivery attempts, or being refused by recipient, we will contact you for alternate shipping arrangements. Additional shipping incurred for these reasons is at the customer's expense. Should an order be returned due to duties and taxes not being paid by the customer then shipping fees as well as restock fees will be deducted from any applicable order refund.
Return/Refund Policy
Incorrect, Damaged, Lost, or Defective Items:
Incorrect Items: If you received incorrect merchandise such as items that do not match with your order you are entitled to a refund or exchange for the correct merchandise.
Damaged Items: If you received a damaged or defective product you are entitled to a refund or exchange for that same product to replace your damaged merchandise.
If there is a discrepancy with your order or you received it in a damaged condition, it must be reported within 10 business days of receipt to be eligible for recourse.
Lost in transit: Orders that are lost in transit typically may be eligible for refund, but these orders are also subject to The GIN Store shipping policy.
Products created on-demand:
Many items on the GIN Store are created by "Print on Demand". This means that once you place your order the products are then produced and shipped. These items are not eligible for refund except in the cases of an incorrect product, damaged product, lost in transit, or defective product.
Currently, this applies to products in the following categories:
Apparel
Jewelry
GIN branded home products
Office and Stationery
Other terms:
To ensure the safety and integrity of our products, The GIN Store does not accept returns of dietary Supplements, cleanses, homeopathic products, or anything else intended for human or animal consumption. All sales of products in these categories are final.
Each bank and financial organization is different and depending on your back you may need to ] allow up to 10 business days for your refund to be processed.
Return Authorization: Any refund or exchange must be preauthorized by GIN Store customer service. To request a preauthorization, contact us at: support@theginstore.com.
GIN Store Experience:
We want to do everything that we can to ensure that you are happy with your purchase so you can always Contact Us and we will work ensure that you "FEEL GOOD NOW" and receive the best possible care and shopping experience.  
Last Modified 05/31/2022
Author: Couric, Katie
Brand: Random House Trade Paperbacks
Color: Cream
Edition: Reprint
Features:
The Best Advice I Ever Got: Lessons from Extraordinary Lives
Binding: Paperback
Number Of Pages: 320
Release Date: 17-04-2012
Part Number: 9780812982589
Details: Product Description NEW YORK TIMES BESTSELLER • For anyone who wants to see how today's best and brightest got it right, got it wrong, and came out on top. What was the tipping point for Malcolm Gladwell? What unscripted event made Meryl Streep who she is? In this inspiration-packed book, Katie Couric reports from the front lines of the worlds of politics, entertainment, sports, philanthropy, the arts, and business—distilling the ingenious, hard-won insights of leaders and visionaries, who tell us all how to take chances, follow our passions, cope with criticism, and, perhaps most important, commit to something greater than ourselves. Among the many voices to be heard here are financial guru Suze Orman on the benefits of doing what's right, not what's easy; director Steven Spielberg on listening rather than being listened to; quarterback Drew Brees on how his (literal) big break changed his life; and novelist Curtis Sittenfeld on the secrets of a great long-term relationship (she suggests marrying someone less neurotic than you); not to mention: • Michael Bloomberg: "Eighty percent of success is showing up . . . early." • Eric Stonestreet: "Remember that the old lady who's taking forever in line is someone's grandma." • Joyce Carol Oates: "Read widely—what you want to read, and not what someone suggests that you should read." • Jimmy Kimmel: "When in doubt, order the hamburger." • Apolo Ohno: "It's not about the forty seconds; it's about the four years, the time it took to get there." • Madeleine K. Albright: "Never play hide-and-seek with the truth." Along the way, Couric reflects on the good advice—and the missteps—that have guided her from her early days as a desk assistant at ABC to her groundbreaking role as the first female anchor of the CBS Evening News. She reveals how the words of Thomas Jefferson helped her deal with her husband's tragic death from cancer, and what encouraged her to leave the security of NBC's Today show for a new adventure at CBS. Delightful, empowering, and moving, The Best Advice I Ever Got is the perfect book for anyone who is thinking about the future, contemplating taking a risk, or daring to make a leap into the great unknown. About the Author Katie Couric is an award-winning journalist and TV personality, the founder of numerous cancer research and awareness organizations, and a New York Times bestselling author. The former anchor and managing editor of the CBS Evening News with Katie Couric, she now serves as special correspondent for ABC News. Beginning in September 2012, she will host a new syndicated daytime talk show, Katie. Excerpt. © Reprinted by permission. All rights reserved. Introduction BORN ON A SUNNY DAY   My husband, Jay, used to tell people that I was born on a sunny day. I thought it was the nicest compliment I ever received. I guess you could say I've always been one of those upbeat, glass-half-full people. Experts in the field of positive psychology might conclude that I'm "hardwired for happiness." When I was a little girl, the youngest of four, my sister Kiki's friends nicknamed me Smiley. Naturally outgoing and eager to please, I used to memorize photos in the yearbook and then approach various students at football games with salutations like "Hi! You're Barbara McLaughlin. I recognize you from the picture in my sister's yearbook!" Before you gag from the absolute adorableness of it all, to paraphrase that Pantene commercial, "Don't hate me because I'm happy." Trust me, I've been to the other side. My mom, a practitioner of common sense who was raised in Omaha, Nebraska, has often said that no one leaves this life unscathed. Indeed, dark clouds did come rolling in, and I've survived my share of window-rattling, life-shattering storms. But that comes later. Growing up in Arlington, Virginia, I had a childhood that was more like Leave It to Beaver than Modern Family. Mine was an old-fashioned nuclear family, with a stay-at-home mom w
EAN: 9780812982589
Package Dimensions: 7.9 x 5.1 x 0.7 inches
Languages: English
Disclaimer: While we work to ensure that product information is correct, on occasion manufacturers may alter their products descriptions and/or ingredient list. Actual product packaging and materials may contain more and/or different information than is shown on our website. We recommend that you do not solely rely on the information presented and that you always read labels, warnings, and directions before consuming any product. Any health information provided in this product description is for informational purposes only. We do not provide medical advice, diagnosis, or treatment. This information is not meant to replace or substitute professional medical advice. No statements in this description were evaluated by the Food and Drug Administration. The product described herein is not intended to diagnose, treat, cure, or prevent any disease.
Choosing a selection results in a full page refresh.